---
---
---
Here's another self-portrait. I'd just bought a pair of nice black shoes and was walking back home. I was happy about my new shoes. Unfortunately, during the week, when I wore them, I discovered that after a few hours, my feet really hurt. I'm not sure what the problem is. Perhaps the shoes are too narrow? I don't know. They were very comfortable when I tried them on in the store. *sigh* In this photo, I was wearing my crocs.

Stop by HEY HARRIET to see some awesome shadow shots by others!
Joanne: I'm so glad you're doing much better! I wish you a speedy recovery and can't wait to see what you blog about next! xoxo If you stop by her blog, be sure to leave her a get well wish.

Paz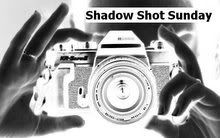 I couldn't figure out which photo to post, so you get two. 😉
---
---
---
---
---
---
---
---
---
---
---
---
---
---
---
---
---
---
---
---
---